Safety and Tolerability for Schizoaffective Disorder

Most common adverse reactions1

In the 5 pivotal trials for INVEGA SUSTENNA® in patients with schizophrenia, the most common adverse reactions (incidence ≥5% and occurring at least twice as often as placebo) were1:
Injection-site reactions

Somnolence/sedation

Dizziness

Akathisia

Extrapyramidal disorder
No occurrences of adverse events reached this threshold in the 15-month, double-blind, placebo-controlled phase in patients with schizoaffective disorder.1
The following adverse reactions occurred more frequently (a ≥2% difference vs placebo) in the long-term study in patients with schizoaffective disorder1:
Weight increased

Nasopharyngitis

Headache

Hyperprolactinemia

Pyrexia
Indicated for the treatment of schizoaffective disorder.
The full constellation of symptoms and the relevant diagnostic criteria should be consulted and are available in the Diagnostic and Statistical Manual of Mental Disorders (DSM-5 ®, or current version), where applicable.
Additional Safety Information1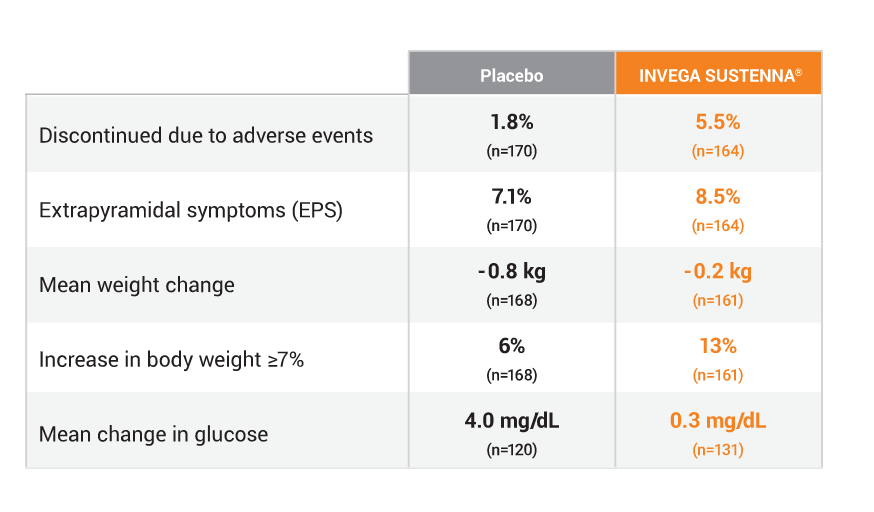 Data presented are for the double-blind phase of the schizoaffective study only.
Reference: 1. INVEGA SUSTENNA® [prescribing information]. Titusville, NJ: Janssen Pharmaceuticals, Inc.; January 2019.