INVEGA SUSTENNA® Dosing Maintenance | HCP
Fully Initiate INVEGA SUSTENNA® for Schizophrenia in 7 Days with 2 Initiation Doses—With No Oral Supplementation1    

Initiating INVEGA SUSTENNA®

Both initiation doses must be given in the deltoid muscle1
For patients who have not taken oral paliperidone, oral risperidone, or injectable risperidone, establish tolerability first1
Previous oral antipsychotics can be gradually discontinued at the time of initiation of treatment with INVEGA SUSTENNA®1
To avoid a missed dose, patients may be given the second initiation dose within a ±4-day flexible window1
Monthly maintenance doses with no oral supplementation1

First monthly maintenance dose* should be administered 5 weeks after the first injection (regardless of the timing of the second injection)1

To avoid a missed dose, monthly maintenance doses may be given within a ±7-day flexible window1

Utilizing the maintenance dosing window to help avoid missed doses should be considered the exception rather than the rule
*The recommended maintenance dose for the treatment of schizophrenia is 117 mg. Patients may benefit from flexible maintenance dosing options within the available strengths.
Ensure That Both Initiation Doses are Given in the Deltoid to Help Attain Rapid Plasma Levels

Deltoid vs gluteal injection: Comparison of paliperidone plasma concentrations following a single injection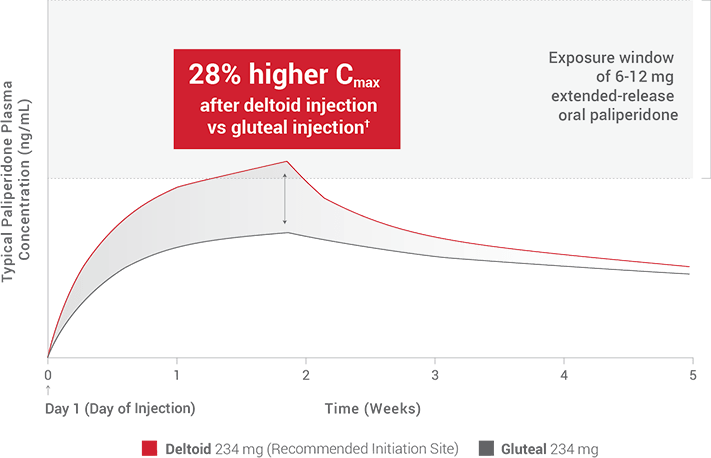 The initiation regimen for INVEGA SUSTENNA® (234 mg/156 mg in the deltoid muscle on Day 1/Day 8) was designed to rapidly attain steady-state paliperidone concentrations when initiating therapy without the use of oral supplementation1
For more information, please see administration
Administration notes1

Each injection must be administered by a healthcare professional

Select the appropriate needle size depending on the patient's weight and injection location

Shake the prefilled syringe for at least 10 seconds before administering
†Following intramuscular injection of single doses (39 mg-234 mg) in the deltoid muscle, on average, a 28% higher Cmax was observed compared with injection in the gluteal muscle.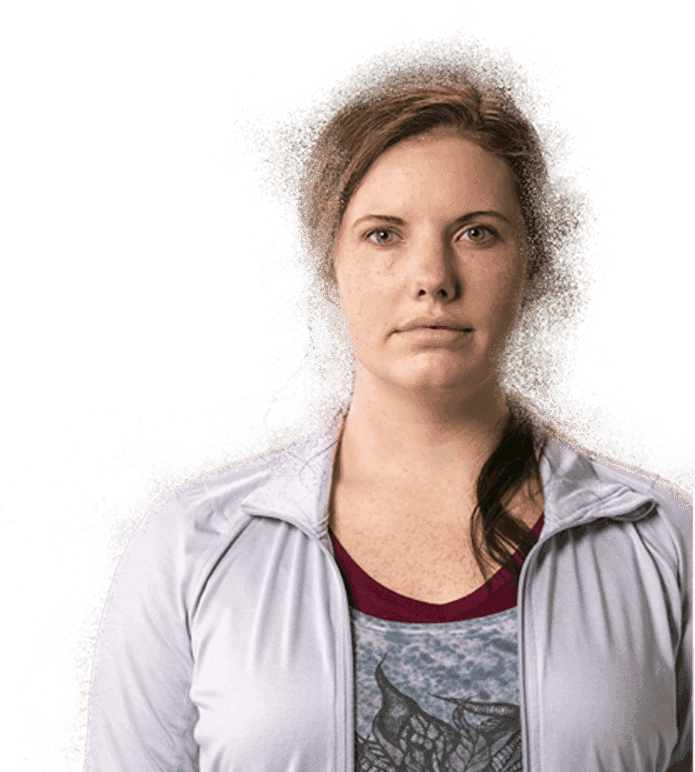 Consider once-quarterly INVEGA TRINZA® (paliperidone palmitate) for adult patients who have been adequately treated with INVEGA SUSTENNA® for at least 4 months.2

References: 1. INVEGA SUSTENNA® [prescribing information]. Titusville, NJ: Janssen Pharmaceuticals, Inc.; January 2019. 2. INVEGA TRINZA® [prescribing information]. Titusville, NJ: Janssen Pharmaceuticals, Inc; January 2019.